An Aha Moment, according to the Merriam-Webster Dictionary, is a moment of sudden realization, inspiration, insight, recognition, or comprehension.
Aha moments can also be seen inside the brain. WebMD.com describes a scientific study in which researchers found an increased activity in a small part of the right lobe of the brain when the participants reported creative insight during problem solving. Little activity was detected in this area during non-insight solutions. http://men.webmd.com/news/20040413/scientists-explain-aha-moments
In a LinkedIn post by Daniel Goleman, "Maximize Your Aha Moment," he describes the conditions whereby the gamma spike is more likely to occur. The pre-work for the gamma spike includes defining the problem, immersing yourself in it, and then letting it all go. It's during the let-go period that the gamma spike is most likely to arise and along with that the "aha" or "light bulb over the head" moment. [http://www.linkedin.com/today/post/article/20130312165729-117825785-maximize-your-aha-moment]
Providing the conditions for aha moments is one of the goals of Tabor Rotation Institutes. Participants are immersed into the Framework from the moment they walk in the door and provided with "letting go times" to share throughout the day. One of the most meaningful times is sharing our aha moments as we bring closure to the day.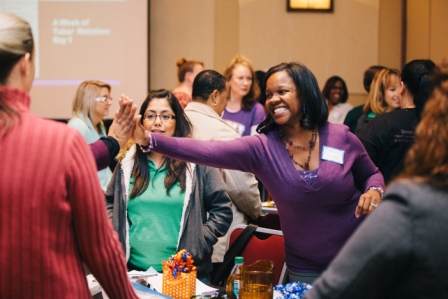 Here are a few aha moments that were recently shared at the end of a Tabor Rotation Institute:
With this framework, I can get everything taught and reach everyone.

You need to plan sooner than a week ahead.

You don't have to start with all 5 days [of Tabor Rotation]. You can just work your way through it.

If every student has a team role, then everyone is important.

Seeing how to use the 6-Week's, Long-Range Planner showed how all the pieces fit together and everything just flowed!

Always hold Leadership Academy—then you're not the only one in the room who knows what to do!

Teach only what is needed to those who need it.

The on-level, average student rarely gets the attention they deserve and need!

Pull the above-level students as the first Readiness Group so you can challenge them.

Innovation…my students must become innovators!

If I use different clipboards during Clipboard Cruising, the students will know when I'm a process observer and when I'm going to stop and reteach.

Why ½ x ½  = ¼…who knew it would be so easy to understand using pattern blocks???

Algebra can be hands-on and makes sense with Algebra Tiles.

Learning to fail supports learning from experience.

Passports will keep individual accountability in the stations.

Team Names and Freeze Words should come from a list of the most important tested vocabulary terms.

Teach the most difficult concepts in Teacher Time.

Front loading is so much more productive than remediation.

Reflecting with my team—they were BRILLIANT!

It really is possible to get it all done in a way they understand!
In his article, Daniel Goleman describes "the physical marker we sometimes feel when we have a gamma spike or "aha" moment. It's associated with pleasure and joy. He goes on to describe the fourth stage of "aha" moments…implementation, where a good idea will either sink or swim. He found that nurturing the creative insight is vital. When a person offers a novel idea, instead of the next person who speaks shooting it down—which happens all too often in organizational life—the next person who speaks must be an 'angel's advocate," someone who says, 'that's a good idea and here's why." This should be what occurs in schools when teachers and principals have a novel idea that will help students…
I also like the definition (and all of the aha moments people share on her website) of an aha moment from Oprah.com
…a moment of clarity, a defining moment where you gain real wisdom-wisdom you can use to change your life. Whether big or small, funny or sad, they can be surprising and inspiring. Each one is unique, deeply personal, and worth sharing.  http://www.oprah.com/packages/aha-moments.html
Watching "light bulbs" go off in the classroom, encouraging aha moments– that's one of the reasons why teachers use Tabor Rotation. Not only does it give teachers a plan for meeting the needs of and helping every student reach their potential, but it also provides space for students to create, innovate, and think! Hopefully, along the way, teachers are busy having aha moments, too!