When I showed a set of Anglegs to a high school math department and everyone said, "What are those?" I knew I needed to blog about these amazing manipulatives!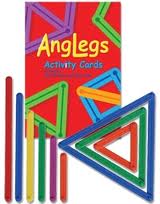 Anglegs come in six lengths of plastic that easily snap together to explore plane geometry. When you snap two Anglegs, of any length together, you can snap a special 4" protractor to explore angles. When you snap three legs together, you form triangles; 4 legs quadrilaterals, and so on.
These manipulatives are quite powerful even if you simply use them to explore the creation of polygons and angles. The vocabulary of geometry standards is easily understood when accompanied with a manipulative. Students understand the term when they can create it. In fact, middle school students were fascinated by high school geometry concepts that "made sense" when they were right in front of them. Transversals and bisectors become simple with Anglegs.
I created a review an "Angles and Triangles" game for the Games Station of Tabor Rotation. The students not only LOVED the game, but kept laughing as they easily created the angles and triangles named on the cards with their Anglegs. The first pair of students to create what was named on the card then had to explain how they knew it was correct by stating at least two characteristics of the angle or triangle. This was a great bridge to their justifications on course exams.
Now, let's go a little deeper using Anglegs…
Congruent and Similar: Create pairs of triangles that are similar and pairs that are congruent. Prove their classification using the snap-on protractor.
Triangular Sum Theory: Build at least 3 different triangles with 3 different combinations of legs and measure each angle. What is the sum every time?
Properties of Quadrilaterals: Find the sum of adjacent angles and the sum of opposite angles.
Here's the Angles and Triangles Game with Angles and Triangles Cards, 1, Angles and Triangles Cards, 2 and a set of Geometry Vocabulary Cards [Vocabulary cards, Geometry, p. 1, Vocabulary cards, Geometry, p. 2, Vocabulary cards, Geometry, p. 3, Vocabulary cards, Geometry, p. 4, Vocabulary cards, Geometry, p. 5for End-of-Course Review. Both will work with craft sticks until your Anglegs arrive. You might also want to use the Congruent vs. Similar Spinner and It Figures! Activity for exploring congruency and similarity.
I use a class set of Anglegs and they bring about the same results every single time with so many concepts! They are worth every penny! I also recommend Anglegs Plus for high school Geometry and Algebra II. Both of these manipulatives can be purchased from Amazon or ETA and can be shipped to you in just a couple of days.
My students call Anglegs the "Legos of Math" and can't wait to explore with them. Watching the "aha" moments and connections my students make was amazing.
And, just in case anyone out there thinks that Anglegs are "silly" and "unnecessary," I'll end with this quote from Robert Frost,
"Forgive me my nonsense, as I also forgive the nonsense of those that think they talk sense."