"Do you use IPads in the Technology/Application Station of Tabor Rotation?"

"What apps do you recommend?"

"Could I write a grant to get more technology in my classroom?"
These questions are frequently asked by Tabor Rotation teachers in math and science, since one of the Tabor Rotation Stations is the Technology/Application Station. It's also being asked by parents who are looking for ways to help their children learn, have fun, and use their newest technology—all at the same time. My next few blog posts will feature the apps that have received the greatest reviews from my students.
The first app I introduced to in my Technology/Application Station is called Math Bingo. This app caught my attention immediately because so many students need practice in computation, but don't want to use flashcards and timed worksheets to improve their basic skills.
The object of Math Bingo is to get a pattern of five Bingo Bugs in a row by correctly answering math problems. You can choose 4 games: Addition, Subtraction, Multiplication, and Division at three different levels: Easy, Medium, and Hard. Level 1.4 Math Bingo features a mixed Bingo game. Because this game is at varied levels and varied or mixed operations, I am able to use it with students from 1st to 8th grade.

Math Bingo is immediately rewarding and self-checking. Players get Bingo Bugs if they make a high score. A bonus to teachers is the ability to view high scores by individual players, track the items missed, and the amount of time it took the player to solve the problems.  If your students are addicted to the app, Angry Birds, then they'll really enjoy the Bingo Bug Bungee which is similar to Angry Birds.
I have to say that Math Bingo is not only effective, but it is addictive—even for adults. This app from ABCya.com is well worth the .99 I paid for it. The current version, for IPods, IPads, and IPhones, has received almost 2,000 ratings with over 4 stars. My students and my own children give it a HUGE thumbs up!
Math Ninjas, by Razeware.com is the current favorite app of all of the students because it is the most like an arcade game. Players "use math skills to defend their treehouse against a hungry tomato and his robotic army." The game is so highly interactive that it kept the attention, and engaged my most reluctant learners. In fact, my students liked it so much that I became suspicious of the math portion of the app and ended up playing it right along with them for over 30 minutes. (Okay, I could have stopped after ten minutes, but it really is addictive!) The computational operations selected at the beginning of the game aren't just a side note, but are needed because it's the only way the player can progress and move to the next level.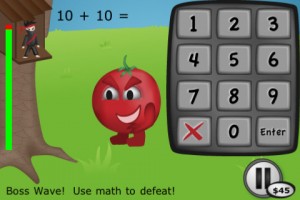 You can download the free version of Math Ninjas, but my students quickly reached the top levels of the free version and begged me to spend $1.99 for the full version. It was worth it! I agree with the 403 reviewers who gave it 4 stars—this app doesn't skimp on learning or fun!!!
The last app I write about today may not have the flashiest graphics, but it is my favorite of these three. It's a teacher favorite because it gave me a new, different, and highly effective way to help my students who have continually struggled with complex questions about number lines.
Math Tappers: Numberline is a FREE app that "challenges players to find the locations of numbers on a number line." What was fascinating to watch was the development of my students' proportional reasoning skills while playing the game. I've never had students want to practice this skill, but mine were incredibly disappointed when the Station Rotation time was up. Math Tappers also has other free math apps for telling time, elapsed time, estimating fractions, multiples, probability, and using base 10 blocks. The Math Tappers motto is "Play, Explore, Understand! This app did just that for every one of my students who used it. Bonus? The students were asking if they could play the Number Line app during their self-selection time—what more could you ask for?
And, now to answer that last question, "Can I write a grant to get more technology in my classroom?" If you use documentation like this blog to support your use of it–YES!