"I've learned there are three things you don't discuss with people: religion, politics and the Great Pumpkin."     -Linus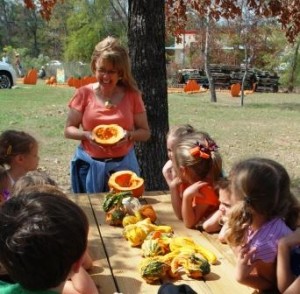 Out of all of the Peanuts comic strips and television specials, this one is my favorite. As a child I thought that waiting for the Great Pumpkin was much more fun than waiting for Santa Claus.
As a teacher, my grade level was never the one who went to the local pumpkin patch to pick pumpkins. So, when a friend told me he ran a pumpkin patch in Delaware (Yes, that's where Pumpkin Chunkin' is an art form and big competition.) I quickly volunteered to be the Pumpkin School Teacher.
This one time adventure turned into six years of incredible experiences teaching over 4,000 students a year all about pumpkins. I have researched the life cycle of pumpkins, types of pumpkins, the history of pumpkins, pumpkin contests, pumpkin decorations, and pumpkin recipes.  I have tried every pumpkin and every recipe I could find–just so I could tell students what it looked like, how to cook it, and what was it's taste. I know a "scary" amount about pumpkins.
This week I once again had the honor of teaching at a Pumpkin Patch School. It was a little bit hotter and a little bit more humid since it was in Texas. However, the pumpkins fascinated the children the same way they had in Delaware. In just 30 minutes, the students were able to learn over ten math concepts, ten vocabulary words, and ten scientific facts. They not only learned them, but they brought their parents back to the patch and were telling them all about the "Baby Bear," the "Blue Hubbard," the "Atlantic Giant," and the "Lumina" pumpkins. The students learned that Atlantic Giants can be the size of a small car and have been used as a boat to go across a lake–that's fascinating information!
Because the Pumpkin School is hands-on and meaningful, the students learn and remember that pumpkins grow from seeds and the pumpkin only grows if a bee brings pollen from the male flower of the pumpkin to the female flower of the pumpkin. They can tell you about how many seeds are in a Baby Bear Pumpkin (weighs about 1 lb) and a Howden Pumpkin (weighs 5-15 lbs). They learn that gourds are inedible and just used for decoration. (The need for gourds in a pumpkin patch really stumps pre-kindergarteners. Since they can't be eaten, why bother to grow them?) So much can be done with a pumpkin!
There are many resources on the web to help you explore pumpkins. I'll post some of those links next week. To get you started, here's a simple sheet with easy to do activities to develop the mathematical knowledge in your classroom or home—and, have fun at the same time!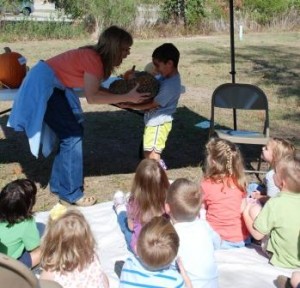 Charlie Brown: Oh brother. When are you going to stop believing in something that isn't true?
Linus: When YOU stop believing in that fat guy in a red suit and the white beard who goes, "Ho, ho, ho!"