The last two Tabor Rotation training sessions for the 2015-16 school year were full of excitement, enthusiasm, and receptivity. The days were amazingly positive, but what happened after the training was even more impressive. With just a few weeks left in the school year, participants went back to their classrooms and immediately began to use the strategies they learned. Here is what happened in one classroom…
…Recently, my team and I had the privilege of attending Glenna Tabor's Math Training Seminar. From the moment we walked in, it had a completely different feel from any other professional development opportunity we've ever had. Glenna greeted each of us with a warm smile and she showed genuine joy in what she was about to share with us. Her delivery was focused, hands-on, and entertaining! Throughout the day, Glenna shared the ideas behind how her framework was developed, as well as data to prove that it works! Her belief in the system is contagious and I left that day ready to dive right in!
Not only did we get to enjoy a full-day of training, but we were also lucky enough to have Glenna come to our school that Monday to model Tabor Rotation in an actual classroom. This is the piece of the puzzle that so many trainings lack…the "show me" piece. It was great to see how the tips and strategies could be so easily implemented! And the students were engaged from the moment she began until the lesson was complete. I was convinced! Tabor Rotations were going to happen in my classroom. Now, this was all happening with only 8 days left in the school year! That is how easy it was to get started.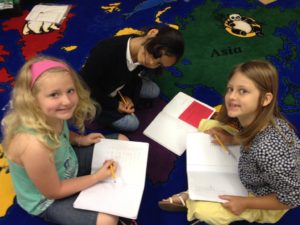 The next day, I organized my students into teams, explained how the rotations would work, and we were on our way! With the games Glenna had taught us, as well as the management strategies she used, it was an easy transition from my previous method of small group/center instruction. And my kids absolutely loved it!
They got to work in teams, with partners, in heterogeneous groups, and readiness groups. I was able to complete one full week of rotations before the school year ended and I cannot wait to fully implement Tabor Rotations next year! Will it take some work and preparation over the summer? Yes. But Glenna gave us everything we needed to get us on our way. Planning guides, templates, data collection tools, everything.
If you are looking for a way to better engage your students, as well as increase student growth and achievement, I highly recommend investing in Tabor Rotation training!     – J. Waller, Teacher, Fulton County Schools
After implementing the Tabor Rotation Framework, transformation was immediate and quite powerful. Here is what one administrator observed…
…We just completed another round of training and I am sitting in a Kinder class excited beyond words. Next year we will be fully implementing Tabor Rotation in every grade level and I know this will make a huge difference for our students. The difference exte
nds far beyond math. I expect we will take the [Tabor Team] roles we learn into our Project Based Learning and reading centers as well. I am very excited about the possibilities this has for our work.
I love the roles students are taking on, the manipulatives that I am seeing in stations, the conversations, and the independence in so many students who started the year speaking no English. For all of this, I thank you for what you have brought to the teaching profession, to me, my school and my students.-  A. Holcombe, Administrator, Fulton County Schools
I'm so proud of all of the educators I have worked with this school year and the astounding results they have seen. Can't wait till the next round of Tabor Rotation Institutes–all of Duncanville ISD schools in July and a room full of open-minded, dedicated educators in Houston, August 6! There's room for you in August…